About the Series: The Lucid Series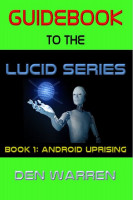 So far, this series includes The Lucid Series: Android Uprising, The Lucid Series: Toys of Anarchy and the Guidebook companion to Book 1.

This entertaining series brings many important themes that are important to everyone; from a Christian worldview. But you don't have to be a Christian to read and enjoy this series.

Also, if you are the right fit, you can read about becoming an author with the Lucid Series.