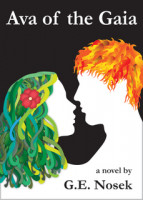 Entertaining, hopeful young adult fantasy books animated by explorations of environmentalism, climate change, animal welfare, and gender.

"A fantastic, engaging read that you simply can't put down. Nosek combines a strong and intelligent female protagonist -- Ava, likeable, spirited, and wise beyond her years -- with a riveting environmental theme to create the book I've been waiting my whole life to read." –Savannah CW, Amazon reviewer.

"Ava of the Gaia, is a spectacular, quick read, and will leave you yearning for more." –Fiona, Amazon reviewer.

"Rare is a book that addresses serious issues facing the human race and remains 'page-turningly' entertaining! Ava of the Gaia is a necessary read for all ages and would make an excellent book club choice or case study in school. It activates the imagination and is pretty much impossible to put down." –Georgia Lloyd-Smith, Amazon reviewer.