About the Series: My Immortal Soul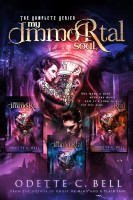 My Immortal Soul is a complete three-book urban fantasy with a twist of philosophy.

...

Celeste Ming is no ordinary hero. She's got one step in the dark and one in the light.

She's a hard-boiled private eye in Soullake City, and she specializes in finding lost souls. The city sits on top of a gate to Heaven and Hell, and it's up to her to ensure neither the light nor dark spill through.

She's got a problem, though. She made a deal with the Devil to access her immortal soul, and it now sits around her neck as a clockwork amulet. But in unlocking her soul, she unlocked her destiny, and both must now vie for control of the Harbinger.