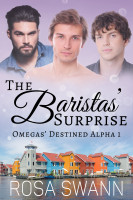 Two Omegas. One kiss. And an Alpha who wasn't supposed to see it happen…

Nathan

I'm supposed to be an author, but I haven't finished a book in years. So, I move to a new city, start teaching at college and suddenly find myself intrigued by two Omegas that pass me by every morning.

One day, on a whim, I follow them and see something I shouldn't have seen. A kiss. A beautiful kiss. And it stirs something inside me...

Zeke

I was ready to give up on love, and then my best friend saved his younger Omega brother, Wes, from a bad situation and suddenly I was falling, head over heels. It's amazing to be at Wes' side and to see him flourish, we're making it work. Maybe love isn't so bad after all.

What I hadn't counted on was the Alpha walking into the cafe, and the way my eyes keep getting drawn to him...

Wes

I'm finally doing the things I was never able to do, like having a job and going to college. But with my Omega boyfriend Zeke and my brother's family at my side, we make it work, they're all the people I'll ever need.

Until, one morning, an Alpha walks into the cafe that I work at, and he asks Zeke and me out on a date, together...