About the Series: Rear Awakenings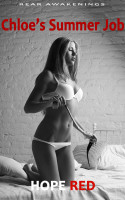 Chloe's journey into the depths of depravity as an anal slave.

How do you think it feels? She's an eighteen-year-old girl. Hot, pretty and able to attract any boy or girl she wants. She should be enjoying her time in the summer before going to university but she's doing something that a girl her age should never consider normal. She feels the woman more than twice her age thrust the ten-inch dildo roughly into her round ass while having her head pushed between the big butt cheeks of another woman. She's helpless to do anything, her hands restrained with leather cuffs but an asswhore knows she's only meant for one thing; to be anally tormented by the mistresses of the cult. This is Chloe's version of normal. This is the life she and her fellow asswhores are a part of now and being sandwiched between the two older women and having her body penetrated by them is so wrong. How does she feel? As hot and as aroused as she could ever be.