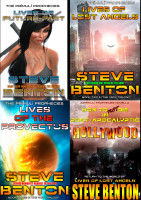 In the 6th century, the immortal Prīmulī took magic and enhanced subspecies genetics away from mankind, forcing us to advance on our own. We did pretty well, too. Iron turned to steel, vacuum tubes turned to printed circuit boards, and we finally made it to the stars.

In the 29th century, Max Gunnarsson is a military scientist, living on Azul, a shining new home for humanity. When he discovers the secret to faster-than-light travel, he takes off for Earth - the home of his ancestors.

That's when everything gets crazy.

Max finds there is a whole lot more to existence (and to his genome) than anyone had previously suspected, and he is to play a huge role in the battle to save The Milky Way Galaxy.

An in-depth sci-fi/fantasy space opera with lycans, vampires, magic, time travel, alien infestations and hot South American girls, The Prīmulī Prophecies aims to please with its genre-bending storyline. Join Max, Jennie, Draagh and the rest as they fight to save mankind from virtual extinction by the pawns of renegade gods of the universe.

Three words - Lycans In Space. It just doesn't get any more awesome than this.