About the Series: Royal Blood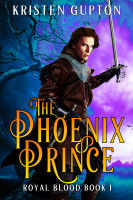 In a world where a vampire has never been a hero, Keiran Sipesh hopes to become just that. However, inheriting a country in the midst of economic collapse from his father isn't going to make it easy. Besides, there are those who will do anything they can to stop him from claiming his birthright to become the king of Tordania.

Then, there's the matter of the only other vampire he's ever known-Lord Athan Vercilla. While Keiran understands that Athan's hand has meddled in his family's affairs for a long while, the exact depth of that involvement will only slowly come to light as Keiran fights for his survival and to establish his place in the world. Athan's plans have been choreographed for centuries, and he's not about to let some young upstart get in his way.