About the Series: Brotherhood of the Mamluks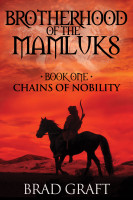 Duyal, a teenage nomad living on the Russian steppe during the Middle Ages, is captured by Mongol invaders and forced on a deadly journey into Eastern Turkey. Sold to a Kurdish prince, Duyal and his fellow Kipchak tribesmen are slated to become military slaves. Yet before being granted the desired title, "Mamluk," the recruits must endure a right of passage: brutal training at an Islamic citadel.

In Book One, <i>Chains of Nobility</i>, Duyal and his fellows are made to suffer the painful transition from hearty pagan nomads to elite Islamic knights. In Book Two, Duyal and his fellow comrades are grown men—Royal Mamluks, freed and promoted—serving the Sultan of Egypt in vicious opposition to King Louis' Seventh Crusade. In Book Three, the Mamluks face this enemy of their youth—Mongols, who sacked their Kipchak tribes, slew their kin, and stole their native lands more than twenty years prior.