About the Series: The Adventures of Damnation Kane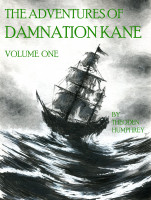 The Adventures of Damnation Kane is an ongoing serial adventure story about Damnation Kane, an Irish pirate captain, born in 1650 to an English Puritan and an Irish druidess. Through means mystical and mysterious, somehow Damnation finds himself, with his ship The Grace of Ireland and his crew of scalawags, in strange seas. His ship damaged by battle and by storm's fury, Captain Kane and his men seek a safe harbor; they find it, and they take it: though in the process they make dangerous new enemies, and tensions among the crew worsen. Because they do not know where they are, nor how they came to be there. Is it Hell? An undiscovered country? The Blessed Shores? The land of the Fae?

No: it is Florida. Near Miami. In the year 2011.

Through storm, through battle on land and at sea, the pirates find their way into the modern world, and then begin to feel their way through this very strange place. Soon enough they make new friends, new allies, and new enemies; they find that they have brought along both friends and enemies from the past, as well. These alliances and enmities create new dangers, and bring new victories – and many, many adventures.