About the Series: Decepition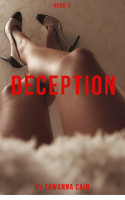 A once in a lifetime opportunity is what my husband told me this move would be. He would be starting a new position at the largest corporation in the world and she would be far away from her husbands controlling parents. It would have been a dream come true, only Lenny is always working and most nights, I find myself alone and lonely.

Then he walked into my life. The man stood about 6'3 with strong big hands and an athlete's body. He had a chiseled jawline and dimples on both cheeks. Then there were the eyes the color of amber and sparkling so bright that I found herself lost in them. He had no facial hair but sported a ponytail on his head looking like a Mexican Thor and we had so much in common. I am not the type to cheat on my husband especially with a much younger man--still, is it really cheating if I just look?