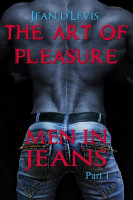 The Art of Pleasure is a serie of Picture Books for those who love to see men in tight jeans with nice butt and big bulge.

Each of the books contains about 130-140 artistic and unique images you have never seen before.

The Pictures are not pornographic or contain sexual acts or bare bodies.

The images are mix of photos, drawings and have been treates with photo programs.

The images Always focus on jeans and have black or dark backgrounds.