About the Series: The Billionaire's Curvy Conquest Trilogy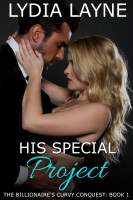 "You're a very beautiful young woman, Miss James. From the moment I first saw you, I knew I had to have you. Here, like this. Under my control."

Cassie James is a curvy girl with a crappy job. As an administrative assistant at Reed Technologies, the highlight of her day is getting a glimpse of the company's founder, handsome billionaire David Reed. But when a special assignment sends Cassie on a personal errand for Mr. Reed, things get a little more personal than she expects.

Sparks fly between the young, submissive woman and her handsome, dominating boss, and Cassie soon falls hard for the mysterious Mr. Reed. Even though she knows that she's just a plus-size prop in his game of seduction, she can't resist the dark and demanding billionaire.

Except, David Reed has secrets. Secrets that make her question their unconventional arrangement. Secrets that make her wonder what kind of game he's really playing...and whether her heart will ultimately survive.