About the Series: Femitokon Series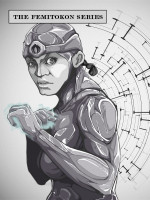 The Femitokon Series is future-fi episodic about the private and dynastic struggles of a middle-aged operative named Sofita Kul. Inside her body is a phasic-armor called the Femitokon Shell, that enables her near invincibility and offers a wide array of defenses. ****

Please visit Femitokon.com for character bios, timelines, and other informative extras.