About the Series: Romancing The Elements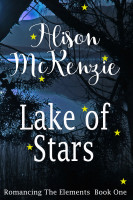 In a post-apocalyptic world, life depends on the Elements of Earth, Air, Fire or Water. Everyone has just one of those Elements deep within their being, an Element that has entered before birth and which shapes their lives and abilities. Survival of the new society without industry or technology depends on skills of the individuals to work with the Elements of Nature.

Sometimes, rarely, the skills develop and that person becomes a Master of their given Element, keeping the skills for life and being able to control aspects of their own Element for the benefit of everyone far beyond the abilities of the average person.