About the Series: Actual problems of applied sciences Journal World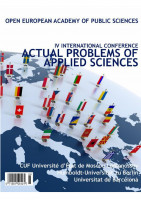 The collection of materials of the international scientific conference "Actual problems of applied sciences" is the most modern survey articles of internationally recognized authorities. Authors wishing to submit a review to the journal must submit a proposal to the editor, first using the application form as a guide.

The journal provides a link between original articles, innovations published in patents, and modern knowledge in various scientific fields. It publishes review articles in interdisciplinary areas in which significant contributions are made.