About the Series: Captive to the Pirate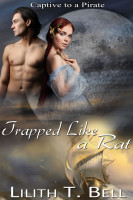 Infiltrating a pirate ship disguised as a boy is easily the most dangerous thing Brigid O'Cullane has ever done. But she has no choice if she ever wants to regain the treasure map that belonged to her dead father. Her father's closest friend Liam Lynch holds the map now and he may well have had a role to play in her father's death. When the dangerously sensual Liam catches her, he hints at secrets her father never shared—a double life of danger and wonder, magic and horror. Now she has no choice but to work alongside a pirate she cannot trust.

Yet as their journey continues across the sun-drenched Caribbean sea, their mutual desire is impossible to fight and a bond Brigid fears begins to grow. Faced with a startling paranormal discovery and dangers on the seas she could have never imagined, it's soon unclear whether Liam is with her for his own gain...or to protect her.