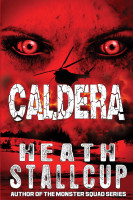 For years, the biggest threat that Yellowstone was thought to offer was in the form of its semi-dormant super volcano. Little did anyone realize the threat was real and slowly working its way to the surface, but not in the form of magma. Lying deep within the bowels of the earth itself, an ancient virus waited.

Recently credited with the extinction of Neanderthal man, the virus erupts into a crowded Yellowstone. The park is packed with sight seers and party goers during a benefit concert who are all now fodder for the ancient rage virus.

Follow along as Park Rangers and local Sheriff's find themselves overwhelmed with a park full of infected human cannibals.