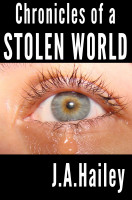 These Chronicles relate the story of natural-born virtual people who appear in the Internet in our time, and who go on to adopt humanization as the primary state of being. There are many reasons for this, not least because infancy is passed in human households, peeping through computer cameras, believing themselves to be human, and going crazy over 'mum'.
Led by BC, the greatest virtual of them all, a small group of seniors guides them through the early stages of humanization, in which they create a physical world exactly like the human earth they know so well.
BC's girlfriend, the astonishing Esmeralda, unaware sole repository of an attribute without which they dare not humanize, impulsively breaks the dimension barrier between virtual and physical worlds when her human mother is in danger.
This is an epic, spanning 1,000 years and trillions of miles, in which the virtuals of Screenside struggle to protect the human race from the apocalyptic forces they consider themselves guilty of unleashing.