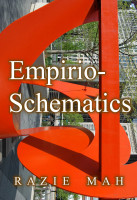 In Philosophy of Nature (1935), Jacques Maritain wrestled with the modern sciences as opposed to traditions of natural philosophy, in particular, Aristotle. He considered the scholastic's concept of three degrees of abstraction: the physical, the typological and the extensive. Could these help in comprehending the differences?

If one considers judgment as a triadic relation, then it contains three elements: 'relation', 'what is' and 'what ought to be'. If one assigns Peirce's categories to each of these elements, then one makes an "actionable" judgment, capable of becoming a category-based nested form.

The three degrees of visualization associate to the three elements of judgment. Physical abstraction goes with 'what is'. Typological goes with 'what ought to be'. Extensive goes with 'relation'.

This model applies to Aristotle's judgment and injunction as well as the Positivist's judgment and empirio-schematics.

For students, the course begins with a sequential reading of Jacques Maritain's Philosophy of Nature followed by the commentary. Then, the student should read at least one application. The comments on Zuckerman, Li and Diener's article is the first application available.