About the Series: Starport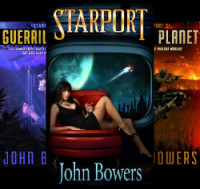 Askelon, the most advanced world in the Trimary System, is under attack by trillionaire Jorge Sorres, who hates democracy in general and Askelon in particular. Sorres owns half the media outlets on the planet and uses them to undermine the political process. His primary target is President Muriel Enza, Askelon's first female president, and to bring her down he will spare no expense.

Politics. War. Sex. Religion. Intrigue. Revolution. It's all here in the most unusual science fiction series you've ever seen. You've never read anything like it.