About the Series: The Soulless Ones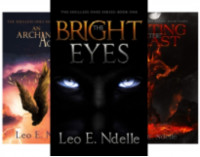 The Soulless Ones Series is an adult, dark fantasy fiction series, centered around The Scribe, a multi-dimensional being, whose sole purpose is to unravel Creation, from the Core to the Edge. He can access the Dimensions of Space, Time, Energy and Ether at will. He plans to live up to his reputation as a purveyor of purpose and the epitome of the vibration known as Chaos.

The Soulless Ones Series has plenty of action, mysticism, the esoteric, the paranormal and the supernatural, leading towards a dystopian apocalypse, unless the entities throughout Creation, who align with the Vibration of Order, can prevent the annihilation of Creation.