About the Series: Fantasy, Science Fiction, & Horror Flash Fiction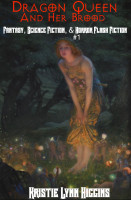 New to Flash Fiction? Flash Fiction are very very short books to tickle your fancy. They are a great way to see a writer's style and be introduce to the worlds they create and envision.

My novels, novellas, and short stories range from science fiction, fantasy, action adventure, horror with elements of mystery, thriller, suspense, and a mix of fairy tales. Explore my worlds of magic, tech, sword and sorcery, killer robots, UFO, dark fantasy, witches, demented games, vampires, flying saucers, dungeons and dragons, werewolves, assassins, monsters, androids, aliens, mutants, warlocks, etc.