About the Series: Elizabeth Skousen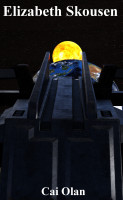 Elizabeth Skousen is the story of the commander of the military spacecraft Goddard and her crew as they arrive in the Rukast system for a long term patrol. The frontier system of Rukast is full of many different kinds of hazards that are not seen closer to Earth.

Not only are the challenges of Rukast great, but the challenges of the novice crew are great as well.

Elizabeth Skousen is the series of short stories about the titular character and her crew.

Episodes are the main stories and release on the first Monday of every month.

Supplementals are documents and chatter from the Elizabeth Skousen universe which discuss various aspects of life in more detail and are released on the third Monday of each month.