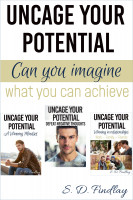 Are you ready to come uncaged?

Uncage Your Potential is a series that challenges the reader to push past their boundaries and seek to

find out just how limitless their potential truly is. Finding our higher potential is a rewarding and exciting

journey, and sadly, so few are on this amazing adventure.

This series covers a wide variety of important topics that relate to our current lives, including; learning

to think positively and confidently, overcoming limiting beliefs, developing new habits that will literally

result in changed circumstances, breaking free from depression and becoming ultra-productive, as well

as, creating amazing relationships that will last a lifetime and invite new opportunity.

Sound too good to be true? Well, it's not! In fact, we are all able to move away from a life of mediocrity

and into an exciting adventure that will cast us into new lifestyles we never thought possible; and, all for

the price of a fancy coffee.

Pick up the series today and get started on your own exciting journey into your highest version of you!