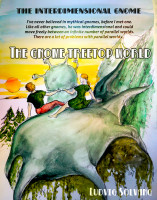 Piotr discovers, totally unexpected, a gnome on a mysterious and dangerous island. The gnome can move between dimensions in the multiverse, and that's the beginning of a lot of dangerous and exiting adventures.

Tafn is a girl with six fingers, and in her world, aliens tries to fool people to think they are gods. The bandits have spears of fire, and can catch demons. At least, that's what they want the villagers to believe. Gnom, Piotr and Tafn get help from the French witch and Wolfram the oldie, and try to scare the invaders into the Roast Zone.

They met the gnome girl Buf when they went to a gnome world close to the border to buy a bull. That went well, but what was the white mass chasing even the trolls from the mountains and the highland?

Everything was calm, when Gnom bought a mysterious box. That box would lead them into worlds beyond imagination, but the strange societies worked for their citizens. But how to cordon a whole world of burglar gnomes from the multiverse?