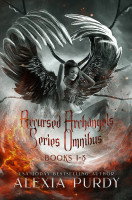 Accursed Archangels is a breakneck young adult urban fantasy adventure series which will appeal to readers of paranormal romance, vampires, reverse harems, angels, demons, and supernatural lore.

Thalia Brennan's destiny is one she doesn't understand. As a cursed immortal, she was banished from entering heaven years ago. When paradise is out of reach, one must bargain away their fate.

Recruited by a corrupt archangel named Ereziel, Thalia must fight her way back into heaven and find a way through the gates of purgatory. Tasked with killing souls so vile, their darkness must be extinguished and collected as currency back into heaven. Thalia gains an unfortunate reputation as a blood-thirsty, self-destructing mercenary.

Books in this series:

The Unbreakable Curse

The Cursed Labyrinth

The Irredeemable Soul - Now Available!