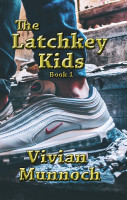 What would you do if you came home from school alone and heard noises in the basement?

Five kids, twelve and thirteen years old and on their own before and after school, each faces their own struggle. A broken home, illness, crushes, bullying, depression, absent parents, suicidal thoughts, broken friendships, and fears of being only a kid and home alone.

Madison, Andrew, Kylie, Anna, and Dylan are brought together by circumstances that feel overwhelmingly out of their control. The temptation of exploring an old abandoned brick building, loneliness, and fleeing an attempted abduction, each is drawn to the old abandoned building for different reasons.

There, they will fight for their lives, where the monsters in the basement nest.