About the Series: Guns of Seneca 6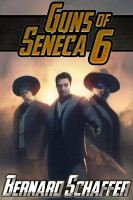 The Rise of the Old West...Again

On a distant planet, at the farthest reaches of the universe, the Old West has risen again.

Outlaws, Gunslingers, Murderous Gangs

When an intergalactic lawman crash lands near the small settlement of Seneca 6, he's carrying more than a badge. Now, the most bloodthirsty group of killers in the galaxy is coming, and their bringing a weapon of devastating alien power.

Jem Clayton is the son of a dead Sheriff, an outlaw with a moral code, and a man about to face his own destiny. A hard-bitten, take no prisoners, western hero for the ages, perfect for readers of science fiction and lovers of the Old West alike!