Interview with Jennifer Jean Miller
When did you first start writing?
I have spent my lifetime writing, before I became a professional writer.

One of my most cherished items is an autograph book from my childhood, which I still keep close to me where I work, as well as close to my heart. One of the entries was from my sixth grade Language Arts teacher, Mr. Boeren. It was his entry, and the one from my music teacher Mrs. Blakeney, that really gave me the confidence in my abilities in the arts.

Unfortunately for a while, I diverted from this path, because of family influences who told me that pursuing the arts was not lucrative. These family members instilled in me that I must have a "practical" job, and I was totally miserable (though I don't regret the experiences I've gained...I think they've helped me overall to lead to my path). Eventually, I found my way back in my mid-thirties to my own hopes and dreams, after I had become a parent and I wanted to show my children that it is important to never give up on your aspirations.

Professional writing as an idea came through a prayer when I sought answers from my God above. I submitted my first professional writing sample to a company that published biographies about famous and everyday people. I wrote a tribute story about my grandmother, Jean Miller and was told that my writing abilities made up for my lack of published works, and that I was accepted. I was thrilled with tears of joy streaming down my cheeks at the news.

From there, I became a contributor to various publications and websites, as well as a blogger. Eventually, that transitioned to work in local news, in which I became an award-winning reporter for one of the three news agencies that I freelanced for, as well as an award-nominated photographer...one of my other passions. That led to running a branch of a news site as a licensee for one of the news agencies, and eventually starting my own.

I now run the site, NJInsideScene.com (InsideScene.com) for local news and also my news and entertainment site, InsideScene.LA. I also run my own public relations company, J.J. Avenue Productions, which produced my book, "Marilyn Monroe & Joe DiMaggio - Love In Japan, Korea & Beyond."

I am also contracted by a publisher to write a local history book that I am working on now, and have some more exciting book projects to come. Stay tuned!

And it all began with a few kind words: "Jennifer, Your voice, writing, and personality all have something in common. They are all beautiful. I'll miss you. Love, Mr. Boeren."

Always affirm others and lift them up...you never know what kind of blessings you'll be bestowing once you do.
What is the greatest joy of writing for you?
Sometimes I forget when I write that after I hit the "send" button, what I write is going to impact someone somewhere. I have written in the thousands in terms of articles and definitely in the millions in terms of words. There are people who have been moved by my writing somehow and somewhere, and nothing gives me greater joy than to know that I've helped someone with something I've written.

Receiving the Media and Entertainment Ambassador Award from the New Jersey Governor's Council on Mental Health Stigma was because of the impact my articles had on the lives of others...it was an honor to receive this and I was the only recipient in the news field to receive an award that year. Based on review of prior and subsequent awards, I may be the only reporter to date who has been bestowed one of these honors.

I am a research aficionado...putting the pieces of a story together, whether it is a local news story or something as grand as a book, gives me great personal satisfaction too.
Do you remember the first story you ever wrote?
I had written stories for fun for many years, many quasi-fictional about people that I knew as the characters. I have a few of them still in the hopper...you never know when one of them will emerge into the public eye.

The first story I wrote though professionally that was published was about my grandmother, Jean Miller. It was called "The Unfinished Masterpiece," and it was for the biography company I had referenced in the earlier interview question. My grandmother, who I knew as "Nana" and I were very close to one another. When she died, I was totally devastated. My story talked about one of her last actions before her death, which was her upset that she had not completed a sweater that she was making for me (she was an avid knitter). She was on a ventilator at the time and kept trying to signal to me with her hands. Before she had been intubated (she was whisked away by ambulance from her home as we all celebrated Thanksgiving no less), she kept apologizing to me that she hadn't finished the sweater. I kept telling her it was OK and to simply get well again. She died two days later. The story recounted this incident, her life, her death, and how the sweater was finally completed by a friend.

My Nana was in fact, "The Unfinished Masterpiece," not just the sweater. She died somewhat suddenly, although she had been ill for a while, and there were some things that were incomplete before her departure from this world into the next.
Do you remember the first story you ever read, and the impact it had on you?
I have held a lifelong love of books, I think though that the two authors who truly inspired me to read and write, were Laura Ingalls Wilder and Judy Blume (Shel Silverstein and Robert Frost most likely for my poetry reading and writing)...though probably the first books I read beside the Little Golden Books (I loved all the Disney ones from "Bambi" to "Cinderella" to "Snow White" to "Sleeping Beauty" and remember reading them before I started school) were the Sally, Dick and Jane books in first grade.

I was a huge fan of "Little House on the Prairie," growing up...was totally enamored with the show (and an interesting side note is that the wonderful man in my life actually spent time managing the property that the show was filmed on...a beautiful ranch in California...plus another coincidence and connection to the show was that I had the chance to interview and meet Melissa Gilbert (who played Laura on television) when she came to New Jersey to star as Ma Ingalls in the play "Little House on the Prairie," at the Paper Mill Playhouse. That was a thrill of a lifetime for me because she was someone I looked up to in childhood. I met Melissa and her son and we posed for photos together at a Habitat for Humanity Event and enjoyed some time to chat...she was nice to talk to and very gracious).

Reading the actual stories from the real Laura was very inspiring to me and how her family endured through the many trials of life from rough winters to poverty to family illness and more. I think people can truly learn from her and I also feel that Laura's example was the reason I wanted to become an author, as after that I started writing short stories. She was an inspiration as a teacher (which my background is also in teaching) and someone who eventually became an author and columnist as I did and have.

Judy Blume was the author I adored as I was a "tween" becoming a teen...she had coming of age stories for that age group and an engaging, fun and educational style in one. I think Judy Blume has helped and continues to help generations of children through various, sometimes awkward, stages of their lives...I speak from personal experience from my reading days too and what her books meant to me.
What is your e-reading device of choice?
Maybe I'm old-fashioned that I prefer paper, though when I read my eBooks it's on my phone and my iPad.
What motivated you to become an indie author?
Indie authorship is the wave of the future...and the future is now.

I know a number of authors who have gotten their words into the world independently, they inspired me and helped me a bit through the process. I am forever grateful to these friends and will name them here as I have in my book...Bill Truran, Max Zimmer and Cristina Norcross...all wonderful published authors of various genres and friends who I trust.

I am working with a publisher now on another book project that they have contracted me for, and of course, as a freelancer, worked for a publishers in the news industry.

There is a different symbiosis that occurs when you are an author creating a book on your own as a publisher. My first book has been produced entirely by me with my company J.J. Avenue Productions, from start to finish...from conceptualizing, to writing, to editing, to creating a final product. I also designed the cover. And as a person who has worked as a marketing and P.R. professional, I will be marketing this too on my own.

I look forward to producing more of my own books as well as offering my services to other indie authors who may like to get published and are looking for someone with honesty and integrity out there to lead them through the process or handle it for them (I admit many writers are creative and don't want to be bogged down with "process"...I am a hybrid of sorts since I am creative and I've also worked in business...plus because I like to be detail-oriented with research, such as writing stories and my genealogy research, I don't mind the process stuff and in fact I kind of enjoy it).

I word it this way in terms of "honesty" and "integrity" because I also learned there are a number of "sharks" out there, aka "self-published" publishing companies that honestly simply collect exorbitant fees from hardworking writers, which they disguise under the catch-phrase of "marketing." One such company that shall remain nameless and has many complaints lodged against it online and has negative posts about it in online forums (something I learned after speaking with them), attempted to sell me a bill of goods in terms of their royalties program for example. I made the mistake of inquiring for more information from them and then they hounded me to publish my Marilyn and Joe book..I still receive emails that they have alluded that maybe I'm not "serious" about publishing since I haven't responded. Ha! Wait when they receive my Amazon link for my now published book as well as my other links for my eBooks including on Smashwords.

This company bragged to me that they pay the "highest royalties" in the industry and pay 75 percent. To them, 75 percent meant 25 percent to the author for print plus 50 for an eBook. I just laughed at this comment and said it was an absurd statement and knew right away I was being "sold." These two royalties are not the same beasts because those books have differing amounts and are figuratively apples and oranges...and I decided, why after I have invested all of my time into this baby (aka my Marilyn and Joe book) as well as my collection of photographs, should I give my hard-earned efforts away to a publishing company that does not have the heart for the project and I will end up doing most of my own marketing anyway? That's throwing good money to bad and makes no business sense.

In my career I've run into a number of sharks that have swum around me as a writer. There's nothing worse than being exploited by blood-thirsty bullies. Writing is a talent, it's a skill and it takes a lot of heart and work. People who know me know I am always working as hard as I possibly can in my trade.

I am sickened when I read posts on Craigslist that don't offer writers pay for their submissions...and one that was offering writers to write about tea couldn't offer compensation and instead offered tea. I had my own Boston Tea Party with that post after I choked on my own cup of tea that I was drinking when I read it, then tossed it overboard via the delete key...are you kidding me? Writers simply cannot be plugged in, then be paid peanuts (and often are, or are stiffed altogether)...too many out there don't care and use a writer's valuable skills and time because it's about the bottom line...

Advice to authors...don't swim in the shark-infested waters and do this yourself if you can..if you are going to go the traditional route, go with a publishing company with integrity (though tougher when new in the industry) and if you're going to self-publish explore your options...don't settle.

I am new to Smashwords, though I will say I have read many wonderful things about them and in my experience so far I have been impressed. This is a valuable site and there are so many tools available to produce your own eBook through them...empower yourselves...

...And if you still need help to produce and promote your book, please don't hesitate to contact me, I would look forward to helping you.
Describe your desk
I will simply say, "I'm not messy, I'm creative." ;)

If people knew how I produced what I do, between the "creativity" aka stuff lining my desk, the kids, the pets and all the other activity surrounding it, they'd probably be shocked. Somehow, it all gets done. "When there's a will there's a way," as the saying goes.

One of my tools though is my iMac with a 27" screen in this "creative" area...and I also work a lot on the go on my iPad, which is my desk away from my desk. I have written pieces on my iPad while even resting in my bed, at my dining room table or a local eatery (including the bulk of my first book, refining it on my desktop), in my car after Superstorm Sandy (no power had to recharge my batteries and write and upload news reports from my car), from hotel rooms and once overlooking the Pacific Ocean in Malibu California as my kids played in a park. Modern technology is brilliant...I love it! I like the changes of scenery and breaking away from my Mac (though I love my Mac too). It makes a writer's job even more fun and convenient.
What's the story behind your latest book?
"Marilyn Monroe & Joe DiMaggio - Love In Japan, Korea & Beyond," was inspired by my collection of vintage photographs that I own of Marilyn Monroe and Joe DiMaggio.

I have been an admirer of Marilyn's since childhood and became a memorabilia collector in adulthood. I have worked with her original memorabilia, in other words, items that once belonged to her, and own some pieces myself. As a photographer, vintage photos were compelling, because they are a link to a moment in time. There was a connection at that very minute between the photographer's lens and Marilyn, and history was captured in that instance.

In fact, I plan to be releasing at some point, the images themselves in a high quality print format, in limited print editions directly from the negatives. I'd like fans to be able to enjoy them themselves, beyond the book. When that happens, each print from me will come with a certificate signed that it's a limited edition print. Unfortunately, there are too many pirates out there stealing images (including from books) then reselling them in low-quality formats on places like eBay, with many fans paying a premium, especially if decent quality pictures of Marilyn are not available in their country. I want to ensure what fans receive when I do release these pics, is the best of the best. And I have a number of slides from Marilyn's time in Korea and Japan, as well as her career, that are in this book. Additionally, I have some still in my archive that I will be excited to show to the world too. Fans are always excited to glimpse unseen images of Marilyn and I'm one of them myself. And as a historian, to me it's important to share history...not hide it, or otherwise it's lost. So I am glad to share my pictures.

Marilyn often expressed that one of the highlights in her life was singing for the soldiers in Korea in 1954. I began amassing a collection of photos in 2009 from Marilyn's time in Japan and then in Korea. Though her marriage to Joe only lasted nine months, it involved some of the most joyous times of her life, including Japan and Korea. To me, it was important to chronicle these special times in her life through my photos and I have other photo collections from other periods of her days here on earth.

To me though, the love she and Joe shared was timeless. Yes, their relationship was stormy...and the marriage ended badly...however, they maintained a friendship and eventually found their way back into one another's lives. Once they each reached particular maturity levels on each of their ends, their relationship grew in a healthy way. They planned on remarrying on August 8, 1962.

However, tragedy struck on August 4, 1962, when Marilyn died mysteriously. Joe was crushed and mourned her for the rest of his life, until his death in 1999. Joe blamed particular parties for taking his love from this world, however as he did, the true people responsible for Marilyn's death squeaked by unnoticed. The book discusses that as well.

To summarize this book, as I'd written in its preface:
"This book touches on the respective and phenomenal careers of both Marilyn Monroe and Joe DiMaggio, in each of their worlds. It especially highlights and celebrates the sixtieth anniversary of the nearly one-month period of their lives during their nine-month marriage that they took the trip to Japan, and she to Korea. This was a time especially pivotal for Marilyn Monroe both personally and professionally. And amazingly and sadly, in slightly over eight years following this milestone, Marilyn would earn her angel wings."
"This book weaves in elements about baseball, entertainment, the military, the tragedies of stardom, and above all, the love Marilyn and Joe shared."
"Today, both Joe DiMaggio and Marilyn Monroe remain stars on this earth, as much as they do so in heaven."

This biography is unique because it is two biographies interwoven into one, showing the parallels of their lives. It also contains photos in both editions, some never-before-seen, with the print version containing an expanded selection and other special treats from my collection, including some pieces of memorabilia for both Marilyn and Joe.

In the process, I've also learned a lot about Joe DiMaggio and grown a greater appreciation for the wonderful man who protected Marilyn. There are a lot of myths about their relationship I hope my book will debunk. And I focus on Joe's career as well, which had some very special points. He was a legend in his own right in the world of baseball, especially for his 1941 achievement "The Streak." It's so amazing that even more than 70 years later, no one has broken his record and it is doubtful if anyone ever will. This year, Joe would have turned 100 as well, so this tribute could not have come in a better year.

This book is dedicated to both Joe and Marilyn from me with love.
What inspires you to get out of bed each day?
God...and my family...and just the knowledge that God has instilled a purpose in my heart to do great things.
When you're not writing, how do you spend your time?
Writing is something that I not only do as a career, I do love it as an extracurricular activity...it's not a chore, even when I'm writing about a council meeting, it brings about a sense of peace for me because I'm doing what I love to do in life and what I believe I was meant to do.

I am very family-oriented and my family comes first above all...when I take a break from work (and I work a lot because I work for myself), it's spending time with my family and enjoying recreational activities and downtime together.

I also love the beach especially in palm tree lined venues and to travel and explore the world..there is so much to see on our planet, whether it's a local attraction or across the globe (I've done both and traveled throughout the United States and Europe and enjoy seeing sites in exotic places, as well as eclectic little museums and locations).

Music is another one of my interests...singing and stage performing as well. Genealogy research is another one of my passions..I love finding out information about my family. I just love researching period, which leads back to my writing and producing articles and now books. And I love capturing the world through my photographic lens.
What do your fans mean to you?
You all mean the world to me and inspire me. I love and appreciate you. Thank you for believing in me.
Published 2014-02-19.
Smashwords Interviews are created by the profiled author, publisher or reader.
Books by This Author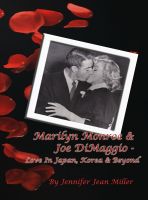 Marilyn Monroe & Joe DiMaggio - Love In Japan, Korea & Beyond
by

Jennifer Jean Miller
The story of Marilyn Monroe and Joe DiMaggio is a timeless tale -- two legends with extraordinary careers in their individual fields and remarkable existences. This book chronicles each of their lives from the days before they met, until their paths finally crossed, their nine month marriage, the love after their marriage, and the love he held for her beyond her life and until the end of his.