Interview with Kathleen Cecilia Nesbitt
Published 2019-11-26.
SENTENCING SILENCE is a powerful book with a message for those who have lived through trauma. Each segment or fragment of the story connects to and layers with another. Did the voice(s) come to you?
I've always been fascinated by persona and voice, writing from the perspective of another. Most of the poetry I've had published are persona poems. But I also had these fragments voices in prose, and it was my little magic box of sundry voices that got me accepted into the MFA program at Goddard College. I am fascinated with how a writer can get to the core of a character's personality, their being, their issues by honing in on what takes the character's attention not just in their own environment, but in any environment they experience. Interestingly, three of the voices travelled with me when I began working on my MFA: June, Sandy, and Viola. My instincts told me they had a very important story to tell, but I didn't know what the plot was at the time. Although Viola became a minor character in SENTENCING SILENCE, she is a very important support system to the main character. She is, essentially, the Hag.

It was when I was an undergraduate at Columbia College that I began working with the first voice in SENTENCING SILENCE. Hers was a tentative, meandering voice of isolation, frustration, lack of fulfillment, confusion combined with little momentum – and reading way too much William Faulkner. She was very young – the age when one is young but one doesn't think one is young. This character spent hours watching her neighbor through the kitchen window lead what appeared to be an abundant, blissful life. So this character tried to emulate her neighbor, attempted to be her by collecting the same things she collected, wearing the same kind of clothes, perming her hair and letting it grow wild, etc., without investigating, (and, I learned later, avoiding) what it was that kept her from having her own rich life. She was saturated in House and Garden, probably influenced by Joni Mitchell's "Harry's House/Centerpiece". These vignettes were always written in third person limited with an eye toward relaying to the reader who the character is and what is motivating her through the details that take the character's attention. I was very fond of this character, but I could never quite get her to do anything. When I carried her with me to Goddard College, my first advisor encouraged me to rewrite this character in first person. That is how I found her true voice, and that lead me to begin to understand what SENTENCING SILENCE was really going to be about. It was the most difficult voice to maintain in the novel, and to really stay true to, because June is in her infant twenties. That voice is very rarely written in literature, for obvious reasons. Who wants to read the diaries, for example, of a young woman pre-twenty-five years old? I don't even want to read my diaries and journals from that age! So I had little to study. I was fortunate to be directed to Jean Rhys. And I also owe a great deal of June's meandering monologue and her inability to recognize herself and her situation to the great Lydia Davis' "The End of The Story."

I also brought the last persona, Sandy, with me to Goddard. Deeply dark, abandoned, depressed, self-medicating, and caught in wrestling with her own accountability in her present circumstances. I pictured her and heard her voice in my mind – wild and unkempt from self-destruction – wailing and swinging at ghosts. She is desperate to get out of her own, current skin, and clutches and clings to the beloved to take her back to a time before her innocence was stolen from her. Sandy always talked to the beloved, but when the self-medicating became too much for her to maintain her own narrative, her "voice" became the universal You and began speaking to all sexual abuse survivors.

The middle character's voice, Reni, burst forth like a wrecking ball in my second semester after a workshop where we were given the prompt, "Home." That's it. Just, "Home." I ran to my dorm room with this voice just railing in my mind, "Damn it, it's about time! I've got so much say on this subject!" This exercise remains Reni's opening monologue. It was shortly after that when I realized what I had been thinking all the while, that these characters needed a plot, like some "Boys On The Side" kind of weird meeting and road trip, just wasn't it. These were different aspects of one character where each of their experiences was a manifestation of childhood sexual abuse, each of their foremost emotional states were the stages of grief, and the plot was to come to terms with the causes of that grief. Once I saw that each persona was predominantly captive in a universal manifestation of sexual violence and a particular stage of grief, the work really began: who was ready to tell what part of the story when?
You did an amazing amount of research for this book, and covering such a range of subjects. Can you comment on your research process?
It was exhausting and exhaustive!

Actually, it's not true that it was exhausting. I love doing the research behind the big picture of a novel, and fine-tuning the tiniest of details. I love that neurologists were excited to talk to me on the phone when I told them I was doing research for a novel. For me, research – in terms of the plot and themes – can be one of the most efficient and productive ways of clearing a block, of opening the story to possibilities, and even keeping the story on-track. It wasn't enough for me to be a survivor and base this novel on my own personal experience, if that were the case I'd have written a memoir. I wanted to universalize the experience for as many other survivors as I could, and put those who have never been sexually traumatized straight into the aftermath to get them to live the psychological and emotional reality. While working toward my MFA with SENTENCING SILENCE as my creative thesis, I primarily studied other writers' works that embodied dysfunctional, fragmented, and untrustworthy narrators – narrators in or coming out of trauma: Marguerite Duras, Virginia Woolf, William T. Vollman, William Styron, Michelle Tea, Charlotte Perkins-Gillman, to name a quick few. However, it wasn't until I went backwards, so to speak, after I received my MFA and started working toward my MA in Transformative Language Arts that the research really began to inform and open the novel, solidify each persona and what each of them represented. I devoured books on the psychology of women, human development, transpersonal psychology, socio-psychology, psychophysiology, trauma, PTSD, silence and oppression. My tattered copy of Judith L. Herman's TRAUMA AND RECOVERY has the persona's names written in the margins with "Show this!" over and over again. In learning how to work with oppressed and sexually abused populations I found my way toward depicting what it's like to be a victim of sexual abuse stumbling toward reintegration. Then I started the actual healing writing work with survivors; unintentional research that informed so much of the novel. There are thousands of voices in SENTENCING SILENCE.

Then, of course, there is the minutia. I lived the 1980s, and I lived in Chicago during the 1980s, but I was not a yuppie. Who knew the Alessi tea kettle was such a big deal? I took the "L" (and in Chicago it is the "L" – not the EL) and the bus all the time, but did I remember which line went past Graceland Cemetery? I remember reading a review of a book I read that took place in San Francisco and involved BART. The reviewer was livid that the author created a station where no BART station ever existed. This really stuck fast in my head! Because much of the novel was written after I left Chicago it was imperative that I take field trips back there and saturate myself in the sounds, the smells, the colors, and the infrastructure. I sat in the pews of Saint Mary of the Angels once again, I landed a tour of RR Donnelly and Sons and discovered that magnificent library and the original press room under the huge skylights, I strolled around the Art Institute and hung out beneath the Chagall Windows, I traipsed around Wrigleyville – again, and I sat at 18th Street Beach and watched the lake and the seagulls, I stayed in the house Sandy and Coolly lived in. And the research around the tiny details went on throughout all of the revisions through the final edits. (When were we first posed the question, "Paper or plastic?" When did the windows on the trains become inoperable?) When I started the novel, the Internet wasn't as rife and infinite as it is now, so toward the end there was always the risk of feeling like one is procrastinating, or falling down the rabbit hole. Then again, you never know what you'll find there!
SENTENCING SILENCE is a novel woven with many different styles of narration including letters, journals, and poetry, and so much poetic language. Do these techniques come to you organically?
I think what came naturally to me early on was turning to writing as a means of survival. I wrote stories about happy families. I wrote really bad, rhyming poetry about beautiful things like friendship, love, devotion, ladybugs and trees. I kept diaries from a very early age that contained a lot of this sentimental poetry as well as the daily report, so to speak. Every journal I ever kept is in a box in my basement–except that one. Full disclosure–my father did destroy one of my diaries–and it was in fact the one that bore all of the truth. Unfortunately, this is a common experience for incest survivors; everything both tangible and intangible is at the mercy of the abuser. I felt that since this is such a common experience it needed to be included in SENTENCING SILENCE; our words don't belong to us either.

While working on my MA in Transformative Language Arts I learned more productive techniques in journaling, and that I'd spent many years during and beyond childhood journaling non-productively. I think poor journaling rather than constructive techniques come more natural to people. In SENTENCING SILENCE, I wanted to show that lack of productivity in the character's musings, sans the cheesy "Dear Diary." All of the poems, prose poems, thesaurus reflections that are a form of journal entries, and precede the main narratives, are the knots June, Reni, and Sandy are trying to untie. Imagery is very powerful. Next to the sense of smell, which can cause memories to come flooding back, imagery can be a jail cell. The more we try to shut or open our eyes to push the images away, the more confining they become. I wanted to show with each character how the images of their experience continue to emerge no matter how hard they each try to push them aside or run away from; how they become clearer and clearer and increasingly dominant. The reality, and thus the meaning of the images, unravels as the character is "crushed" under their weight.

In terms of poetic language, I think for me it's more inspired than organic, or it may be a little bit of both. I typically talk like a pirate, which leads me to the question of writing voice and real-time, or even Facebook voice. I spend an inordinate amount of time on that beast, predominantly commenting on other people's posts, always in my own voice, that pirate voice, which still may be a thin veil over my vulnerability. My own posts are fairly acerbic, not pretty, and certainly not writerly. But when I sit down in my study to write, I look at the little framed pictures I have of my idols staggered about the room, as though they are my family, from each of whom every line resonates like poetry to me. Duras, Maso, Gaitskill, Phillips. I say, "This is the quality I want to achieve today." It's painstaking, hard work. But who knows, it may very well be within me.
What motivated you to become an Indie author?
I think there are three things that motivated me to self-publish: My mother, aversion to paradigms, and mortality.

In my eyes, my mother was an incredibly gifted woman. She could balance a checkbook on one line (back when people balanced their checkbooks by hand with a ledger), she could draw and paint, and she wrote beautifully. The only work that she ever got "professionally" published was after she changed her author name to a man's name. In and of itself, this is a demonstration of how inherently difficult it is to get published. Ergo, Virginia Woolf, who early on decided to defy the "industry."

I don't fit nicely into a box, and neither does my writing or means of story-telling. I had several well-meaning writing group participants as well as paid editors who wanted my work to fit nicely into a box. I had interest in SENTENCING SILENCE from a well-known publisher, if I changed the book to past tense from the point of view of one character. But I had a vision for my this novel, and I made it as accessible as possible without leaving my vision behind. I wanted to submerge the reader in the experience of a survivor. I don't mind being different as much as others mind me being different.

It took over 25 years to write SENTENCING SILENCE. I left it, re-approached it, left it, and revised it many times. To wait for the gatekeepers to accept it "if only you would change this," "and this," and maybe even "this," before my 100th birthday just wasn't an option for me. You can laugh. I'm laughing. But it's out there now. It's out there for you.
What is the last piece of art you encountered that affected you? What film? Book?
Art - visual art. My house is filled with it. But art has to kick me in the gut; it has to have a narrative or make a statement; it can't just be pretty. I've been a long-time fan of Chicago-based artist Joyce Polance and purchased two of her paintings over the last six years. Then suddenly she posted a photograph of her recent work (at the time) called "Lost" on Facebook and it left me reeling. I knew immediately it had to be the cover of SENTENCING SILENCE. What's more, I knew I had to own it. Such emotion in that tiny painting! Such a metaphor, that smear from the eye through the mouth.

In other news, the mini-series "Unbelievable" absolutely floored me. It has so much to do with my work. Another film that I watched recently was "The Bookshop." There's a line delivered by the character Edmund Brundish (in reference to the bookshop owner considering stocking Nabokov's LOLITA) that caused me to take pause, as well as pause the film to write it down: "...I think you should try and sell it to the people of Hardborough. They won't understand it, but that's all for the best. Understanding makes the mind lazy."

This might surprise you, because it really surprised me. I love "The Big Bang Theory." When it first came out, it totally went over my head. But I decided to start from the beginning a few months ago. The more I got involved with the characters and their idiosyncrasies the more I loved it. After a while, the more I watched it the more I felt like I was part of their living room, and a part of their personal growth. That these characters grew so much over twelve years is, to me, the key to its longevity and its huge fan base. And Sheldon's AHA moment in the final episode - what a great lesson for any writer! I actually cried.
Describe your desk
This is a great question in that I don't have a desk anymore! I discovered, maybe ten years ago, that arriving at a desk with cup of coffee in hand every morning to begin my writing day was actually making it feel more like work than joy. Of course, I get a great deal of joy out of writing, but I don't get much joy out of sweeping, dusting, and laundry; writing began to feel like a chore. I remember having had a really hard time feeling chained to that desk for four to six hours a day - and STUCK. One day, I grabbed my lap top and went to another room entirely and lounged on the couch. I emerged four hours later with five chapters of a new novel. So, let me describe my desk. I have a little love seat and an old trunk I use as an ottoman in a room full of books, old oak library furniture, and many low-light industrial-style lamps. I put my lap top on my lap, put my feet up, and I go off to writing land with my old English Cocker Spaniel snoring gently by my side.
Smashwords Interviews are created by the profiled author or publisher.
Books by This Author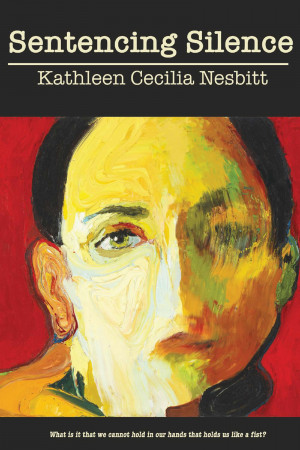 Sentencing Silence
by

Kathleen Cecilia Nesbitt
Price:
$7.99 USD.
Words: 167,150.
Language: English.
Published: November 10, 2019
. Categories:
Fiction
»
Literature
»
Literary
(5.00 from 2 reviews)
"What is it we cannot hold in our hands that holds us like a fist?" This is the question that June, Reni, and Sandy must answer. Each of them only wants to return to college to study and write poetry. Unfortunately, the circumstances of their lives caused by secrets from their past make this impossible.