Interview with M.A. Rizk
Qu'est-ce qui t'a motivé à devenir un auteur indépendant? / What motivated you to become an indie author?
La chance de pouvoir publier mon livre et mes idées et que mon livre puisse aider quiconque en aura besoin me parlait vraiment. J'ai écrit un premier livre il y a plusieurs années et tout le processus, de soumettre un manuscrit à une maison d'édition et d'attendre des semaines et souvent des mois avant d'avoir une réponse, m'a vraiment découragé. Quand j'ai recommencé à écrire cette fois-ci, j'étais très excité à l'idée d'écrire et d'être capable de publier mon livre une fois qu'il était corrigé. C'est exactement ce que j'ai fait, et j'suis vraiment fier du résultat.

*****

The possibility of being able to publish my book, my ideas, and help out whoever my book can help out really spoke to me. I wrote a first book many years ago, and the whole process of submitting it to a publishing house, and waiting for weeks and sometimes months before getting an answer from them really discouraged me. When I got to writing this time around, I got excited about the idea of writing it, and being able to publish it once it was edited. That's exactly what I did, and I'm really proud of the result.
Comment Smashwords a-t-il contribué à ton succès? / How has Smashwords contributed to your success?
Leur guide très utile sur comment publier un e-book et leur plateforme très facile à utiliser ont contribué à ce que je sois capable de publier ce livre. Je leur suis très reconnaissant pour leur générosité durant tout le processus. J'ai apprécié écrire le livre, mais c'était aussi stressant de le terminer. Apprendre comment le mettre en ligne contribuait à ce stress, mais obtenir leurs outils a facilité le processus grandement.

*****

The very useful guide on how to publish an ebook by Smashwords and their platform that's really user-friendly contributed to me being able to put this book out there. So I'm very grateful for their generosity in guiding me through the whole process. Writing the book was a lot of fun but it was also very stressful to finish it up. Having to learn how to put it online added to that stress. Having their tools to help me out made it a lot easier.
Qu'est-ce que tes fans signifient pour toi? / What do your fans mean to you?
Mes fans? Je ne pense pas avoir de fans, mais si on parle des gens qui lisent mon livre, alors je peux dire que c'est l'fun de savoir que des gens aiment ce que j'écris et que ça leur parle. C'est surtout ça l'important pour moi, que ça leur parle. J'ai écrit à propos de ce qui m'a aidé. Donc, si ça aide vraiment quelqu'un d'autre, c'est un bon feeling. Je veux aider à développer la confiance en soi des gens parce que j'en ai manquée lorsque je grandissais et comme jeune adulte. J'ai beaucoup souffert de ça, surtout en silence, et je vivais beaucoup de honte. Si je peux écrire à ce propos et donner des exemples de ce que ça avait l'air et de ce que ça peut avoir l'air quand on manque de confiance, et si je peux donner des outils pour développer la confiance en soi, ça me rend heureux. Des gens qui lisent mon livre, ça me fait sentir utile. Écrire quelque chose d'utile et qui a de la valeur, c'est ce que je veux. Quand des gens achètent mon livre, je sens que c'est ce que je fais.

*****

My fans? I don't think I have any fans, but if we're talking about people who read my book, then I can say it's fun to know people like what I write and that it speaks to them. The ladder is really what's important to me. I wrote about what helped me out so if it truly helps someone else, then that's a great feeling. I aim to help in developing self-confidence because I had very little of it as I was growing up and in my young adult life and I suffered from it a great deal, most of the time silently, ashamed of it. If I can write about it and give examples of what it looked like or looks like when we lack self-confidence, and if I can give tools to develop it, then I'm happy. People reading my book makes me feel like I'm helpful. Writing something useful and valuable is what I want. When they buy the book, I feel like I accomplish that.
Sur quoi travailles-tu présentement ou prochainement? / What are you working on next?
Je travaille présentement à terminer l'écriture d'un livre sur lequel je travaille depuis plus d'un an. C'est sur le leadership. Ce qu'on entend souvent quand il y a une conversation sur le leadership, c'est que le leadership est à propos de mener les autres. Toutefois, ce que je me suis aperçu des leaders dans le monde du hockey compétitif, les parents, entraîneurs, et agents, c'est que ce genre de leadership amène beaucoup de malentendus et de souffrances des deux côtés, c'est-à-dire du côté des leaders et de ceux menés, dans ce cas-ci les joueurs. Alors, dans ce prochain livre, je vise à faire ressortir les désavantages d'un leadership qui met trop l'emphase sur les autres et surtout à illustrer les bienfaits de remettre l'emphase sur le leader pour qu'il ou elle puisse mener efficacement. Ça soulèvera sans doute un peu de controverse, mais je crois que ça aidera plusieurs leaders à comprendre leur rôle plus clairement, et ainsi à devenir de vrais leaders, c'est-à-dire des gens qui en inspirent d'autres à se mener eux-mêmes.

*****

I'm currently working on a book that I've been working on for over a year. It's on leadership. What we often hear when there's a conversation about leadership, it's that leadership is about leading other people. However, what I have come to see from leaders in the world of competitive hockey, that is from parents, coaches and agents, it's that this sort of leadership leads to a lot of misunderstandings and suffering from the 2 sides, the leaders and the people being led, in this case kids and players. So with this next book, I aim at showing the downfall of leadership when it overemphasizes the others and the great benefits of putting the emphasis back on the leader so he or she is able to lead efficiently. It promises to raise a few eyebrows but I think it will help a lot of leaders see more clearly about their role as leaders and how to become a real leader, that is someone who inspires others to lead themselves.
Quand tu n'écris pas, comment passes-tu ton temps? / When you're not writing, how do you spend your time?
Oh boy, ça pourrait être long, mais je vais tenter de garder ça court et concis! Quand je n'écris pas, je suis à travailler sur les ateliers Take A Rizk qui s'en viennent au début 2017. Je travaille aussi sur quelques idées de t-shirts pour promouvoir la confiance en soi et son importance. J'aimerais bien les sortir avant la fin de l'année.
Je donne aussi des conférences dans le milieu du hockey pour adresser les problématiques présentes et constantes dans ce sport et pour amener des pistes de solutions. Je parle aux parents et entraîneurs à propos de comment mener efficacement pour permettre aux joueurs de s'épanouir et de se développer en bons athlètes et êtres humains heureux. C'est un monde en changement et le hockey doit s'ajuster. Ce n'est pas encore fait dans ce sport et ça crée beaucoup de tension. C'est ce que j'adresse en parlant aux leaders des joueurs. Je suis aussi l'entraîneur d'une équipe Atome AA, les Cobras de Lasalle-Westmount. Nous sommes une bonne p'tite équipe avec des joueurs de 9-10 ans assez drôles à voir aller! La saison dernière était supposée être la dernière pour moi derrière un banc, mais ils ont réussi à me ramener pour une dernière!
En dehors du travail, je pratique maintenant le Pilates. J'étais un grand fan de yoga quand je jouais au hockey et quand j'ai arrêté. Mais avec les blessures que j'ai eues, le yoga est devenu compliqué, surtout parce que mon ventre (mes abs!) était un peu faible! Alors j'suis tombé sur le Pilates un jour et ça m'a botté le cul! J'ai adoré et j'en fais depuis quelques mois maintenant. Je trouve cet entraînement tellement intelligent, et ça me force à utiliser des muscles que je ne savais même pas que j'avais! Essayez-le avant de me juger! C'est un dare...non, un rizk!
Je complète également une certification professionnelle à l'École Internationale Écoute Ton Corps. Je devrais compléter le programme d'ici un an ou deux. Pas de presse de ce côté, comme il s'agit d'un cheminement autant personnel que professionnel. J'apprécie beaucoup cette école pour leur philosophie sur la vie. Ça m'a amené beaucoup de paix intérieure...et du chaos aussi, on va s'le dire!, puisque j'ai découvert des nouvelles parties en moi. L'équilibre entre la paix et le chaos, et leurs outils pour m'aider à revenir à une tranquilité d'esprit après les nombreuses prises de conscience, m'encouragent à continuer.
Voilà! Pas si long, han?!!!?

*****

Oh boy! This could be a long answer. I'm gonna try to keep it short. When I'm not writing, I'm working on the Take A Rizk workshops that will start in 2017. I'm also working on a few ideas for tshirts to promote confidence and the importance of it. I'm trying to get them out before the end of the year.
I'm also giving conferences in hockey arenas to address the current issues facing this sport and how to solve them. I speak to parents and coaches about how to lead efficiently to allow for the players to enjoy themselves and develop into good athletes and happy human beings. It's a changing world, and hockey has to adjust. It hasn't yet and it creates a lot of friction. I try to address that when I speak to the leaders of the players. I also coach a team, the Atom AA Lasalle-Westmount Cobras. We're a good little team with a bunch of funny 9-10 year-olds. Last season was supposed to be my last year coaching a team, but I guess they succeeded in bringing me back for one more!
Outside of work, I now practice Pilates. I was a big yoga fan when I played hockey and after I stopped. But with the injuries I had, yoga became a little complicated, especially since my core was a little weak, to say the least! So I stumbled upon Pilates and it kicked my ass! I loved it and have been doing it for a few months now. I find the training so intelligent, and it forces me to use muscles I didn't even know existed. Try it before you judge it. It's a dare...no, a rizk!
I'm also in a professional counselling certification at the Listen to Your Body International School. I should be done with it in the next year or two. No rush on this end, as it is as much a personal journey as it is a professional one. I really appreciate this school for their philosophy on life. It has brought me a great deal of peace...and chaos, as new parts of who I am have been awakened! The balance between peace and chaos, and the tools they give me to return to this peace after I become aware of new stuff, encourage me to keep going.
Voilà! Not so long, right?!!!?
Comment découvres-tu les e-books que tu lis? / How do you discover the ebooks you read?
Pour être bien honnête, je ne lis pas beaucoup d'e-books! Oupss! Et oui, j'suis un de ceux-là! Je préfère encore les livres en papier que je peux tenir entre mes mains quand je lis. Bien que...je tiens aussi une tablette entre mes mains quand je lis un e-book!!?! Je réalise que plusieurs personnes ont fait la transition pour lire sur leur téléphone, tablette ou ordinateur. De mon côté, je n'ai pas encore fait la transition complètement. Par contre, j'dois dire que je suis très reconnaissant des gens qui lisent des e-books puisqu'ils pourraient être intéressés à acheter le mien!

*****

To be completely honest, I don't read a lot of ebooks! Oupsss! I'm one of those, yes! I still prefer to have a paper book in my hands when I read. I've realized that a lot of people have adjusted to reading on their phones, tablets or computers. I haven't made the switch yet. I have to say though, I'm very grateful to the people who read ebooks as they might be interested in reading mine!
Te rappelles-tu de la première histoire que tu as écrite? / Do you remember the first story you ever wrote?
Et oui! Enfin, je ne me rappelle plus si c'est la première, mais c'est une des premières! Un soir, je complétais un devoir d'anglais. Je devais écrire, pour le lendemain, une histoire que j'inventais de mon cru. J'étais dans ma chambre à l'écrire et je n'étais pas très inspiré. J'ai été me coucher pensant que mon histoire maintenant terminée était assez "poche", moche. J'me disais qu'elle ferait bien l'affaire. Ce n'était qu'un devoir après tout. Sauf que ce soir-là, je n'arrivais pas à m'endormir. Je continuais à penser à comment l'histoire que j'avais écrite était ennuyeuse. Je me disais que ce n'était pas vraiment moi, que je pouvais faire mieux, que j'avais plus en moi. Et puis, c'est là que ça m'est venu. L'inspiration de l'au-delà! Je ne sais pas d'où l'idée m'est venue, mais c'est devenue une idée d'histoire très claire. J'ai sauté hors du lit. Il devait être minuit. Ce n'était pas important pour moi. Je me suis mis à écrire et je n'ai pas arrêté pour la prochaine heure ou deux. Quand j'ai eu terminé, mon histoire était complète et j'en étais très fier. Pas de corrections à apporter, ni de relecture nécessaire. J'avais simplement le feeling que c'était la bonne! Je ne me rappelle pas la note que j'ai eue ou ce que le professeur en a pensé, mais jusqu'à aujourd'hui, je me rappelle ce feeling profond de joie, de fierté, d'accomplissement. C'était tout un feeling!

*****

Yes I do! Well, I don't know if it's the first story I wrote but it's the one I remember! One night, I was working on an assignment for English class. I had to hand it in the next day, and it was a story we had to invent. I was in my room working on it, and I was very uninspired. I went to bed thinking it sucked when I finished it. I was like: Oh well, it'll do the job! But I couldn't fall asleep, and I kept thinking about how boring the story was. I kept thinking that it wasn't the real me, that I could do better, that I had more in me. And then it came to me. Inspiration from the great beyond! Don't know where it came from, but the idea became so clear to me as a story. I jumped outta bed. It musta been 12 by then. I didn't care. I started writing and didn't stop for the next hour or two. When I stopped, I had my story and I was so proud of it. No editing, no second reading necessary! I just knew it was a good one. I don't remember the grade or what the teacher thought of it, but to this day I still remember the feeling I had that night. I was so inspired and so proud, it was awesome!
Quel est ton processus d'écriture? / What is your writing process?
J'écris à propos de ce qui me rejoint, ce qui me parle, et évidemment, ce qui me vient. J'attends souvent que ce soit assez fort et clair en moi avant de l'écrire. Lorsque j'ai l'idée précise, je l'écris sur un bout de papier, ou plus souvent qu'autrement maintenant, dans mon téléphone comme j'ai remarqué que j'accumulais beaucoup de bouts de papier en fin de journée! Ensuite, la prochaine fois que je me retrouve devant mon ordi, j'écris ce qui est inscrit sur le papier et ce qui m'est monté dans cet instant. Puis, habituellement le jour suivant, je relis ce que j'ai écrit, amène des changements s'il y a lieu, et je continue où j'en étais.

*****

I write about what speaks to me, about what comes to me. I often wait for something to become so strong and so clear in me before I write about it. Once I get a clear idea, I write it down on a piece of paper, or more recently in my phone as I was noticing how many pieces of paper I was accumulating in one day! When I'm in front of my laptop next, I write what's written on the piece of paper and about what came up in that moment. Then, usually the next day, I go over what I wrote, bring some changes if need be, and I keep going with where I was at.
Que lis-tu pour le plaisir? / What do you read for pleasure?
J'aime lire des romans d'aventures et des biographies. Habituellement, avant d'aller me coucher, je vais lire un roman. Durant la journée, soit tôt le matin ou en milieu d'après-midi, je vais lire une biographie. Et, je ne suis pas un grand fan de lire les journaux ou d'écouter les nouvelles, mais récemment, dans les derniers mois, j'essaie de lire un journal le samedi matin, en autant que ce soit accompagner d'un cappuccino! Je ne le fais pas chaque semaine, mais je trouve l'expérience assez agréable. C'est à refaire!

*****

I like reading adventure novels and biographies. Usually before I go to bed, I'll read a novel. In the daytime, either early morning or mid-afternoon, I like reading biographies. And, I'm not big on reading the newspapers or watching the news, but recently, in the last few months, I've been trying to get in the habit of reading one newpaper on Saturday morning, so long as I have a cappuccino by my side! I don't do it every week, but I've found the experience to be fun. Will repeat it!
Quels sont tes cinq livres préférés, et pourquoi? / What are your five favorite books, and why?
Malheureusement, il n'y a pas assez d'espace pour écrire la réponse en français et en anglais comme chaque réponse à un maximum de caractères. J'espère que la version anglaise pourra quand même vous satisfaire.

*****

Wow! I'll go with the ones that come to mind first as I've read many great books and find it hard to only mention five. I like a variety of genres, from bios to fiction (although not a big sci-fi fan) to self-development and business-oriented books. Top five is tough, but I'll try!

1. Listen to your body, your best friend on Earth, by Lise Bourbeau. She's the founder of the Listen to Your Body International School, and I coulda put down any of her books, but this one was the first I read from her and it's the one that probably had the most impact on me in recent years. Even if the first time I took a look at the pink cover, I didn't feel like reading it, when I got around to it months later, it touched something deep down inside.

2. The 100-year-old man who climbed out the window and disappeared, by Jonas Jonasson. One day, I was at Starbucks, writing, and I saw a guy sitting outside reading that book. The title made me laugh and I told myself I would get it once I finished the other novel I was reading. I ended up buying the book a couple of weeks later, and it didn't disappoint! I loved it, loved the way it was written, and can't stop talking about it to whoever is looking for a good book!

3. Shoe dog, by Phil Knight. This autobiography by Phil, the founder of Nike, took me by surprise and I loved how honest and generous he was in the details of the beginning of the adventure for him. I felt like he was himself while telling the story, not trying to make it any prettier or uglier than it actually was. And to get to know how he made it work, how it got started, the struggles he went through and how he managed to get people to be involved spoke to me very much. I highly recommend it!

4. The $100 Startup, by Chris Guillebeau. Recently, I was visiting my brother in Arizona and on my way back, I was in Minnesota for a lay-over. I was there for 4 hours and was pondering about where I was gonna end up next. I mean, I was on my way back to Montréal, but the forecast looked grayish-black for me, on the business side of things. I was not having any revenues coming in from my business. I felt like I was better than ever at what I do, that my ideas were solid, with real value I could bring to people, and yet I was still struggling to create anything tangible with it, that is an actual business...making money! I read the back cover of this book. It spoke to me so much. Chris seemed like a version of the guy I have been wanting to be for years now, entrepreneur, traveler, writer. It said he has this ability to turn ideas into income. I thought to myself: That's exactly what I need. But then my head got in the way. I couldn't believe this book would actually help me out. So I left it there and walked to my gate. We were boarding when I was still thinking about the book. What if this time, it could really help you out? What if you were there now, Marc? I ran back to the store to buy it, and finished the book within 4 days. The book I just published would not be out yet if I hadn't read The $100 Startup. Very grateful to Chris.

5. I round up my top 5 with...drum rolls please...: The Artist's Way, by Julia Cameron. Maybe a classic and an oldie for many, but I only found this book a year and a half ago. Wow! Wow, wow, wow! It says the book is a 12-week course, but it took me 10 months to complete. I followed my own rythmn. I wanted to take my time with it. It's amazing and I recommend it to anyone who's looking to find a way to express what we all have deep down inside of us. If I'm grateful to all the authors on this list and to many others, Julia holds the top spot because her writing and her ways are so intelligent and gentle that it took me exactly where I was, and let me know it was all good. It carried me to a place where I feel more and more at ease with who I am and what I am. I felt at home everytime I opened her book.
Quel est ton approche pour le design de la couverture? / How do you approach cover design?
Pour faire mon design, j'achète d'abord des images sur Big Stock Images et ensuite, j'ajoute le titre et sous-titre en travaillant sur le site canva.com. C'est un site web génial que j'ai découvert lorsque justement, j'essayais de trouver une solution pour faire le design moi-même. Ce site fait très bien l'affaire et il est très facile à utiliser.

*****

To do my design, I buy pictures off Big Stock Images and then I work on it to add the title and subtitle using canva.com. It's a great little website I discovered when I was figuring out how to do the design myself. It does the job and is very user-friendly.
Quel est ton appareil de choix pour lire un e-book? / What is your e-reading device of choice?
Je ne lis pas beaucoup d'e-books, mais quand j'en lis un, j'utilise mon ordi portable. Je préfère un grand écran. J'ai déjà lu un e-book sur mon téléphone, un livre d'Alice Miller, et même si j'ai beaucoup apprécié son livre, j'ai trouvé la lecture plus ardue que relaxante.

*****

I don't read very many ebooks, but when I do, I'll use my laptop. I like the bigger screen. I have read one ebook by Alice Miller on my phone before, and although I really enjoyed the book, I found the process to be more irritating than relaxing.
Published 2016-11-30.
Smashwords Interviews are created by the profiled author, publisher or reader.
Books by This Author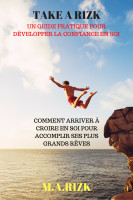 Take A Rizk - Un guide pratique pour développer la confiance en soi
by

M.A. Rizk
C'est connu de tous: croire en soi pour accomplir ses rêves est un incontournable. Mais voilà, lorsque nous doutons de nos capacités, comment arriver à mettre en pratique un tel conseil? Dans ce guide pratique, apprenez à développer votre confiance en vous et ne soyez plus stopper dans la réalisation de vos plus grands rêves. Qu'attendez-vous? Sautez dans l'aventure Take A Rizk!