John Clements
Biography
Up until recently, I worked in a Bakery for many years. Unfortunately, I was made redundant and had to look for a means of earning a living. I looked at many internet busisness', but never found anything suitable. I few weeks ago I thought it would be a good idea to sell ebooks for a living. This is my first Project as it were, I'm just hoping it all works out well. Here's hoping.
Books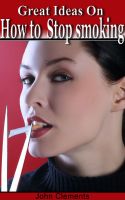 Great Ideas on How to stop Smoking
by

John Clements
An excellent ebook which explains the dangers of smoking, and the health benifits when you decide to quit.
John Clements' tag cloud