J. M. Rooney
Biography
Born in 1945 in Quantico, Virginia. His father retired to Punta Gorda, Florida in 1956 from the USMC. J.M. Rooney enlisted in the USMC in 1966 after marrying. Was an enlisted artillery instructor in a training battery in Camp Pendleton, California. After being told he would never go to Vietnam, Tet occurred and three days later he was in I Corps shooting howitzers and his Winchester M-14. Never say never. On the flight over to Vietnam he discovered a newly started training notebook. He resolved to keep a day to day log in the event he died and never got back the day lost crossing the International Date Line.
His first wife died from cancer in 1993, after giving him three beautiful children. He has three grandchildren and one on the way.
He was discharged from the USMC in 1972.
Sworn in as a lawyer in 1973. He was the sole and part-time city attorney for Punta Gorda, a Florida Municipal Corporation for fifteen years. He is currently a sole practitioner.
He remarried in 1997 and got a bonus daughter in that occurrence. Both of his wives are angels.
He is a forty year member of Kiwanis.
In answer to the question "What did you do in the war?" he wrote the book Foxy Chives for his children.
He has currently two other books available in circulation: The Pennsylvania Rangers and Sneads' Ferry Tales, under his pen name Marvis Parch..
Perhaps all the descendants of the very small Pennsylvania militia ranger company in the American Revolutionary War will enjoy my take on what our ancestors did in the war.
Books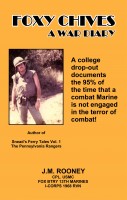 Foxy Chives
by

J. M. Rooney
Price:
$7.99 USD.
Words: 52,810.
Language: English.
Published: October 9, 2015
. Categories:
Nonfiction
»
History
»
War
A college drop-out documents the 95% of the time that a combat Marine is not engaged in combat. The author describes the day to day routine of life in the Vietnamese War (the Vietnamese call the contest, the American War) in 1968, the worst year.
J. M. Rooney's tag cloud