Pip Edwards
Biography
It was during the Christchurch earthquakes of 2011. My son who was 7 at the time had suffered terribly. "tell me a story he would say." so that's when it started. Hector is my son's name, and Boris was our car. He was a 1984 Mercedes 230E, and built like a tank. We often went to sit in him in the street after an aftershock, we felt safe in him, nothing was going to fall on him and if it did we figured we would be pretty safe, he quickly became one of the family. So they became the hero's of my stories. For 4 weeks we slept under our solid dining room table, and I made up the adventures of our 2 hero's, Hector and Boris and their fight against the bad guys of the world, the stories lasted for half and hour or so, just long enough for my son to fall asleep into his own little dream world away from all his problems. It was he who said I should write them down and publish them so that other kids throughout the world could have their parents tell them a great adventure before they went to bed, so here they are. I hope you enjoy reading them as much as Hector and Myself enjoyed them during those hard times.
Smashwords Interview
Series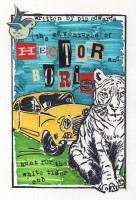 The Adventures of Hector And BORIS
by

Pip Edwards
Hector is a boy that likes nothing more than going on adventures with his best friend BORIS, the most "AWESOMEST" car in the world. Their adventures take them all around the world getting the better of lots of hardened criminals.
Books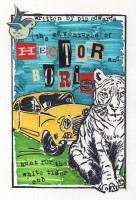 The Hunt for the White Tiger Cub
by

Pip Edwards
The Hunt for the White Tiger Cub, see's our Heroes going to the rescue of the Tiger Cub, stolen by Thomas French for his own rare species island. BORIS transforms into a Helicopter, Hover Craft, plane and car whilst being chased by the villains. Ned the head of security at the zoo is roped in to help, and between them our heroes get the tiger back in the nick of time for Prince Harry to unveil him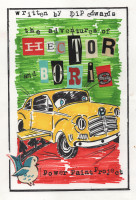 The Adventures of Hector and Boris Book 1, The Power Paint Project
by

Pip Edwards
The Power Paint Project is the first adventure of Hector and BORIS. Hector is a boy who loves nothing more than having adventures with the most 'Awesomest' car in the world, BORIS. This adventure sees him helping secret agent Archie Lovell get the PPP plans back to their rightful owners and put the evil leader of OBOE Angus Burgher behind bars. Then home for tea of sausage rolls and chips.. YUM
Pip Edwards' tag cloud