Ken Van Wagner
Biography
Ken Van Wagner is a native of the Jersey Shore, who grew up within eyesight of the Manhattan skyline. A lifelong interest in dinosaurs began as a child, when he made visits to the American Museum of Natural History. Exposed to Ray Harryhausen's animated dinosaurs in The Valley of Gwangi when that film was released spurred an obsession with movie special effects. However, it was a viewing of the original 1933 King Kong a few years later that really stimulated an interest not only in the groundbreaking effects of that film, but the people who were behind the scenes and their unique talents that brought the giant ape to life. Ken attended the School of Visual Arts in Manhattan, where he was a contributor to the award winning short, A Sticky Situation. Ken had the good fortune to meet with Ray Harryhausen on several occasions at the animator's home in London, where they discussed a possible film project based on Willis O'Brien's unfinished War Eagles project. What would ultimately become the basis of Teratorn was germinated in those discussions. Ken currently resides in Eastern North Carolina, and is working on his second Steve Carnes novel.
Smashwords Interview
Books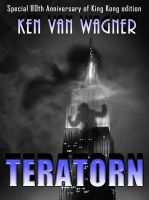 Teratorn - Special 80th Anniversary of King Kong Edition
by

Ken Van Wagner
Teratorn is the story of Steven Carnes, a unorthodox paleontologist who has gained notoriety among his scientific peers. Carnes's mentor has discovered a find in the Indian Ocean -the fossils of the largest flying creature to have ever existed. This is the beginning of an exciting adventure where an ancient force of nature will collide with modern civilization.
Ken Van Wagner's tag cloud