Jane Bond
Biography
Cooking went from an interest to a mission when I began eating gluten-free four years ago. I have always been an adventurous cook. My family heritage was a cross between southern traditional and Hungarian immigrant. This gave me a culinary exposure to a wonderful variety of foods.
My mother was a home economist so I was both a daughter and a student in the kitchen. She was an early devotee of Julia Child. As far back as the 1960s, I was encouraged to "cook outside the box."
When I began eating gluten-free, I found it fairly easy to adapt favorite recipes and to cook appealing foods - except for dessert. This became a real challenge. I did not like the recipes that called for substituting strange, hard-to-find ingredients for wheat flour. I began collecting recipes that were never intended to use flour at all. After about two years of compiling my clippings and copies, I realized I was assembling a cookbook.
I began to look at each recipe with an eye to improving and personalizing it. I tweeked a few classics, created completely new concoctions and modified recipes to suit my own preferences or correct a problem. My family, friends and neighbors were my testers.
Now I want to share my glorious desserts with anyone who is eating gluten-free or cooking for someone who needs gluten-free foods.
Books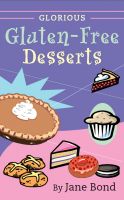 Glorious Gluten-Free Desserts
by

Jane Bond
Recipes for gluten-free desserts that do not require exotic ingredients and that can be enjoyed by everyone.
Jane Bond's tag cloud