John Skinner
Biography
John H. Skinner has a B.S. from Virginia State University, and a M.S. and Ed.D. from Columbia University. Over a career spanning more than 40 years, he has worked as a researcher, policy analyst, manager, and educator in the fields of aging and public health. He has served under the Nixon and Ford Administrations as a Regional Program Evaluator, and the Carter and Reagan Administrations as the Associate Commissioner on Aging for Research, Demonstrations, and Evaluation. He has also held positions as Research Director for the National Council on Aging, and the Executive Director of the Philadelphia Health Management Corp. He has been an Adjunct Professor in the School of Social Work, University of Pennsylvania; Visiting Professor at the University of Oklahoma School of Public Health; Visiting Professor at the University of Texas, Dallas Health Science Center; and retired after twenty years as Associate Dean of the University of South Florida College of Public Health and Director of the USF Aging Studies Ph.D. program. During his career, he authored a number of articles and delivered many papers at scientific meetings.
Books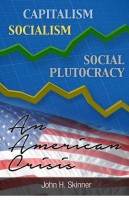 Capitalism, Socialism, Social Plutocracy: An American Crisis
by

John Skinner
A call to action for all Americans, this book describes vital conditions that threaten the social, economic and political well-being of the nation. Among the topics covered are , technological change, offshoring, labor force participation, income inequity, education and health care. Long term solutions are suggested to remedy the political, economic and social problems examined in the book.
John Skinner's tag cloud