Creative Cafe Cabal
Biography
Welcome to the The Write In, or as we collectively known as the Creative Cafe Cabal we are a writers support group. The idea of the 3C is a collective pooling of skills that are here to encourage its members with their writing, to help develop ideas, suggest cover artwork and help each over that writing hump we are all go through. We are here to share all the fun, cool, and sometimes just insane moments that come with creating a story you want to share with the world.

Once a week we meet on Tuesday at the Barnes & Noble Cafe on The Avenue in White Marsh, MD at 7pm. All skill levels are welcome to write, to socialize, to share ideas and ponder the great mystery of does the size of laptop directly correlate to getting your book published?

The core members of 3C are made up from the local National Novel Writing Month participants, brought together through a slightly loony Englishman who suggested a get together on the local NaNoWriMo boards. Throughout the month of November 2009 we all banded together once, twice and sometimes three times a week to support each other, as we all charged towards the insane count of 50,000 words in a month.

This website is for all Maryland Authors (and beyond) who are looking for support in their writing, and are interested in sharing their stories. Come on in, you are all welcome.
Books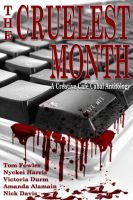 The Cruelest Month - A Creative Cafe Cabal Anthology
by

Creative Cafe Cabal
The proceeds from this Creative Cafe Cabal Anthology novel The Cruelest Month all go to benefit American Cancer Society. Thank you for looking and we hope you pick this novel up and enjoy the stories, and the cruelty within. The members of the Creative Café Cabal: Amanda Alamain, Nick Davis, Victoria Durm, Tom Fowler, and Nyckei Harris.
Creative Cafe Cabal's tag cloud