Ken Cameron
Biography
Ken Cameron Biography
Ken Cameron was born in Tenterfield, New South Wales. He has worked as a director of film and television in Australia and the USA.
He is the author of the novels THE PROVENANCE OF MADAME REY, LOST IN FRANCE and EDDIE PIKE IN PARIS, and the director of the feature films MONKEY GRIP, FAST TALKING and THE UMBRELLA WOMAN.
His television directing credits include the mini-series BANGKOK HILTON, BRIDES OF CHRIST, THE OLDEST LIVING CONFEDERATE WIDOW TELLS ALL, MY BROTHER JACK and ANZAC GIRLS.
He lives in Sydney and also spends time in the Quercy region of South-West France.
Books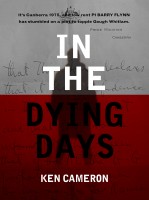 In The Dying Days
by

Ken Cameron
Canberra, November 1975. When low rent PI Barry Flynn is hired by a wealthy socialite to tail her straying husband, he envisages a big payday. But nothing about the case is as it seems, and soon his investigations lead to a clandestine plot to topple Gough Whitlam's Labor government. In the game of federal politics the stakes are enormous, and whistle blowers must be silenced one way or another.
Ken Cameron's tag cloud