Mark Glaser
Biography
Raised in the small ranching town of Calhan Colorado, the Glaser family has a long history in the community. Calhan is a rural culture of hard working families, rich in tradition, value and perseverance. The Glaser's grew up around airplanes, athletics and business. While a student at the University of Northern Colorado, Mark began working for Contemporary Services Corporation (CSC), an Event Security and Crowd Management company. In his 27th year of employment, Mark is the Senior V.P. of Operations, overseeing 40+ branches nationwide.

Mark met his future wife thru a mutual friend. Robyn grew up in "small" town Yankton, South Dakota, whose family shared the same community values. After 2 years of courtship, Mark and Robyn were married in 2008.

In 2011, they had their first child Matthew, and 2 years later, had their daughter, Piper. Mark and Robyn live in Denver with their 2 kids, and instill the family values they were both raised with.
Books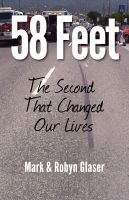 58 Feet: The Second That Changed Our Lives
by

Mark Glaser
Mark and Robyn Glaser's lives were unexpectedly turned on their heads when, in 2010, they were involved in a serious motorcycle accident. After suffering terrible head and spinal injuries, the prospects for Mark ever living a normal life again seemed bleak. The story of his recovery and return to normality is an amazing tale of resilience, perseverance, and the power of family.
Mark Glaser's tag cloud