Stan Peters
Biography
Stan Peters is a native New Yorker. He was hatched at the NY Infirmary for Women and Children as a preemie after just 8 months of his mother's outstanding prep work. There lay the hint of his exploratory keenness of inhaling life as he sees it. Early on he was fixated by the wonderment of movies and their ability to transport ones imagination beyond the boundaries of a darken theater. At the ripe age of eighteen decided that Advertising was his stepping-stone toward directing feature films. Taking evening courses in graphic design, film directing and editing at SVA set him on his way to eventually opening an Ad Design Studio eight years later. Over the following twenty years he and his staff conceptualized and executing, both print and film, projects for a broad range of domestic and international clientele. When the desktop publishing incursion hit he decide to reeducate himself away for the big town and moved to south Florida. Where he has afforded himself more time for his hobbies of tennis, kayaking, writing screenplays and husbandry. Stan draws his most pride from Heather and Bret his children from an earlier marriage. Now and for the past twenty-six years is married to Jennifer a wonderfully skilled interior designer. They share a lovely home and jointly cater to the needs of their four cats and their tropical gardens.
Where to find Stan Peters online
Books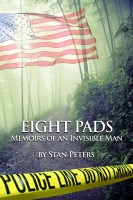 Eight Pads - Memoirs of an Invisible Man
by

Stan Peters
The story entwines the lives of two men: An ex-army ranger and present day NYPD Lieutenant who is sometimes plagued by fiends from his past. And an elderly gentleman who has left behind what may be best described as a 1,000-piece puzzle in the form of his memoirs.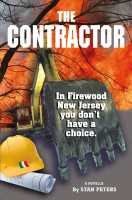 The Contractor
by

Stan Peters
On a beautiful Sunday afternoon in Firewood, NJ the Rosetti's garage is burning down and Frank Rosetti is afire. A serious situation for sure! But not for long. Within 24 hours Frank's wife Theresa is invaded by a conga line of characters that will entertain. A novella of farcical happenings — 98 pages.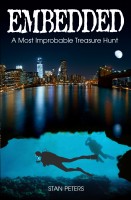 Embedded
by

Stan Peters
Price:
$3.99 USD.
Words: 91,180.
Language: English.
Published: September 19, 2015
. Categories:
Fiction
»
Adventure
»
General
Laced with romance and treachery. Swaddled around a ship that sank and became embedded below the waters of Manhattan island some 350 years ago. Olé New Amsterdam shares center stage with a band of contemporary amateur treasure hunters in this tale where the action is as rapid as the trading on Wall Street. An adventure that seems improbable – yet boldly possible.
Stan Peters' tag cloud