John Jansen In De Wal
Biography
Teacher from The Netherlands. Immigrant to Canada. Perennial student. Ontario qualified teacher: B.A, B.Ed, Principal. Retiree: writer of fiction, fantasy, articles and poetry. Reader and Performer. Self-published.

Mam did not just serve the best Great Depression meals. She garnished them with deserts of enthralling tales and stories that fanned the embers of my imagination.

My very own first book, in the days when the term public libraries had not yet been invented, was full of adventure, meanness, understanding and compassion. A birthday gift from a family friend. I cherish it to this day, for it made me a voracious reader of everything and anything that even looked like print. This urge carried over into the learning of other languages. After all; print was print.

Over the years I have entertained my own children as well as students by telling stories: a mix of truth and fancy, often seeing lots of doubt on their faces. Yet they were always rapt listeners. To honour my mother's tradition, I now offer you PYPAH. A story of loss, perils, compassion and above all: hope.
Books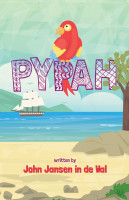 Pypah
by

John Jansen In De Wal
Pypah is the story of a bird's adventure from forest to ship. from sailor to circus. When Pypah has his wings clipped, is swung around, ignored by a drunkard master, and weathers a storm, we see the parallels with a refugee child who misses the comfort of familiarity and home.
John Jansen In De Wal's tag cloud