Lena Carpelan
Biography
I love to laugh. Humor has seen me through being a child of divorce and the new kid in eight schools in four countries. It has seen me through the turbulent teen years, marriage, and parenthood. Seeing the absurd side of life was what made me run to jot down ludicrous comments and situations verbatim before dealing with them (my kids knew they were in trouble when I grabbed a pen...) "It's better to laugh than to cry" is a favorite saying. My books reflect looking at life through humor's softening lens... not because I don't think life is a very serious affair, but because I do.
Smashwords Interview
Books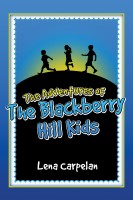 The Adventures of the Blackberry Hill Kids
by

Lena Carpelan
After 11 years of childless marriage, calm and efficient Swedish-American Anna Sjöholm Masters has an unexpected attack of horrormones, loses her mind, and begs her husband for a baby. The result is the Blackberry Hill kids, an endearing trio of rapscallions who cheerfully romp through life as their aging parents valiantly try to keep order in the midst of chaos.
Lena Carpelan's tag cloud