Archbishop Bruce J Simpson
Biography
Archbishop Bruce J. Simpson, OSJB, is a Vietnam Era Veteran, former Police Officer of the Year, a Federal Agent, a Federal Magistrate, an armed bodyguard to Saudi Royalty, a senior Federal Government executive, and recipient of awards from the Vice President of the United States and the Secretary of Treasury. While studying at Mt. St. Mary's Seminary and Theological College at the Catholic University of America, Bruce decided that his own conflict of conscience would not allow him to go on to ordination in the Roman Catholic Church.
He looked into the other branches of Catholicism, and found the Old Catholic Church, based out of Utrecht, Holland, which broke from Rome in 1889, but maintained valid Apostolic Succession and Canonical recognition in Roman law. He was ordain a Deacon in 1995, a Priest six months later, and was called to the Episcopacy in early 1999. On January 30th, Bruce was consecrated a Bishop of the Catholic Church. In 2002, he was consecrate sub-conditione by a Roman Catholic Archbishop, three times removed from Pope Paul the Sixth. His early ordinations were performed while Bruce was in charge of the U.S. Governments non-tax debt collections. The Archbishop has authored, The Gay Face of God and If He's Queer He Musta Done It.
Books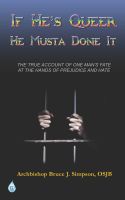 If He's Queer He Musta Done It
by

Archbishop Bruce J Simpson
Archbishop Simpson writes from both personal knowledge of the affair as well as witness testimony of the events that took 15 years of an innocent man's life, when he was sentenced to 15 to 45 years for a crime he did not commit, in Allegan County, Michigan. Every American who becomes aware of this book, should read it, learn from it, and if ever accused of a crime, fight it with all your might.
Archbishop Bruce J Simpson's tag cloud