Elisabeth Marie
Biography
Born in Bruges, Belgium. Came to the U.S. 34 years ago. Was a California lawyer for about 13 years. Main passion: find life in all its positive ways, freed from past, genes, aging, fears, pains. Studied and practiced the 14 habits (principles) I condensed in my book.
Many years ago, I looked at the seniors and realized that life should NOT end this way, pathetic, ugly, frail, hopeless. Now that I am a senior, I thank the Creator of all life for having revealed 14 important principles for a never-ending, an exciting, ageless adventure: Life.
Books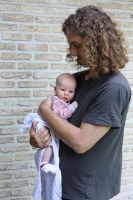 Ageless Life Adventure
by

Elisabeth Marie
By reshaping your daily habits, following 14 principles, you can invest in an ageless adventure with promise. Mental, physical, spiritual, emontional rebuilding. It takes effort and a willingness to change but will free you from the rut of fears, failures, and frustrations. Step-by-step 14 principle plan to a complete change. No longer will you be preconditoned by your genome or past failures.
Elisabeth Marie's tag cloud