A. H. Gray
Biography
A H Gray lives in the West Australian city of Perth, where she studied History and Archaeology for six years. Influenced by her interest in such subjects, and her love of a good story, a number of ideas and characters have since come to life in the form of her debut novel, The Northumbrian Saga. The novel is intended to be the first in a series of fiction books based on the history and people of medieval Northumbria during the Anglo-Saxon and Viking periods.
Where to find A. H. Gray online
Books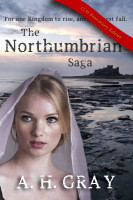 The Northumbrian Saga
by

A. H. Gray
1150th Anniversary Special Edition Niece to the King of Northumbria, Aethelwin is a pawn in the kingdom's civil war. Just as she begins to earn the trust of her husband and his people, history intercedes. Ivarr the Boneless and his Vikings have attacked York. Aethelwin is flung into a world of chaos as she struggles against the Danes and even her own people.
A. H. Gray's tag cloud