Andrew Yusi
Biography
Andrew Yusi is an up-and-coming screenwriter enrolled in Full Sail University studying for a Bachelor of Fine Arts. His short fiction has been published in the October edition of Down in the Dirt magazine and the 2017 collection book of Scars Publication. Andrew is working on many spec scripts and short stories while in school to improve his writing. His favorite genres to write for are science fiction, action, and drama. His niches include dystopian/utopian and alternate reality stories. Andrew writes thought provoking plots that make you contemplate certain ideals you hold or change your preconceived notions you have about a topic. He wants his audience to see things from different perspectives so they can form their own opinions instead of following the crowd.
Where to find Andrew Yusi online
Books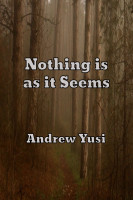 Nothing is as it Seems
by

Andrew Yusi
In NOTHING IS AS IT SEEMS, author Andrew Yusi creates worlds and tears them down. This collection of flash fiction stories takes the world as you know it and flips it on its head. You will experience dystopian settings, troubling concepts, and nail-biting plot lines.
Andrew Yusi's tag cloud