Angela Lathan
Biography
Hi. I have been hooked on reading mysteries ever since I read my first Nancy Drew book. That's when I was a preteen. And now that I'm in college, besides keeping up with my classwork, I find reading and writing mysteries is something that I'm totally committed to. When I meet new people, go new places, or indulge in new activities, the wheels of my mind start churning, and the next thing I know a new mystery has surfaced. I call my mystery series "Gemini Mysteries," because a set of twins are the lead characters, and they are double trouble. I hope you enjoy reading about them and their antics as much as I do writing about them.
Where to buy in print
Books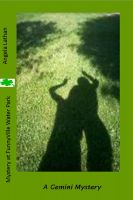 Mystery at FunnyVille Water Park
by

Angela Lathan
Can teen detective Shiloh--along with twin sister Sophia and good friend Jarred--capture the culprit who kidnapped their high school teacher? They'll have to swim the deepest waters trying to do so!
Angela Lathan's tag cloud