Anthony Villanueva
Biography
Anthony Michael Villanueva is a retired nurse anesthetist with thirty years of combined military and civilian anesthesia practice, including combat and civilian trauma care. He received his bachelor's of science in anesthesia from The George Washington University, Washington, D.C. and now enjoys a quiet retirement in Folsom, California.
Books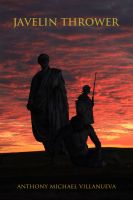 Javelin Thrower
By
Anthony Villanueva
Price:
$4.99 USD.
Words: 103,580. Language: English. Published: November 26, 2012. Category: Fiction
Nothing is more terrifying than being impaled by the twenty-one inch Gladius or the perfectly thrown javelin; except failure on the battlefield. Just ask Lucius Pontius.
Anthony Villanueva's tag cloud