Andrea Zoe Legette
Biography
Apostle Andrea "Zoe" Legette

Founder of Kingdom Works International Ministries and A Zoe Life Ministries, Apostle Zoe Legette was trained under Pastor Marilyn Lee of Word Center for Christ Sword Ministries and studied under the mentorship of Juanita Bynum Ministries.

In 2007, she was ordained as a Prophet and in 2015 she was confirmed and affirmed as an Apostle by Apostle Gabriel Barrett of Family Healing Center in Lancaster, S.C.

Her heart's desire is to promote the gospel of the Kingdom of God while bringing every believer into
their identity in Christ.
Her motto comes from Genesis 1:26,
"We come out of struggling and straining
into rulership and reigning through Christ Jesus."

She is a spiritual mother to many raising them up to
be Kingdom minded, walk in authority and take their rightful place in the Kingdom of God.
Books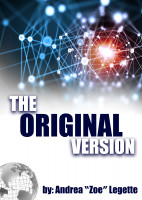 The Original Version
by

Andrea Zoe Legette
The Original Version is a manual created to expose the truth about God the Father, God the Son, and God the Holy Spirit before all things existed. We must see the importance of rediscovering our original identity through Him that we may function properly in the earth!
Andrea Zoe Legette's tag cloud